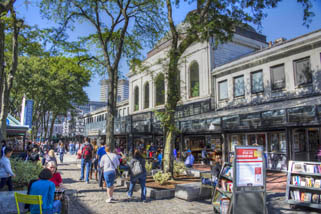 click photo to enlarge
The picture on the left is Quincy Market in downtown Boston constructed in 1824-1826 and named in honor of the mayor Josiah Quincy. It was built without and tax or debt. We ate here at the Boston Chowda Company and of course had their Chowda, Lobster Mac-n-Cheese and a Lobster pie. The next picture down is the Paul Revere house constructed in 1680 on the cities North End. Paul Revere owned this house from 1770 to 1800.

After leaving Boston we drove to Maine and stopped at the Nubble lighthouse. The picture has been altered pretty heavily by adding the clouds, sunlight streaming and the reflections in the water. It was really a clear blue sky.